Save money using Cozify's exchange electricity rules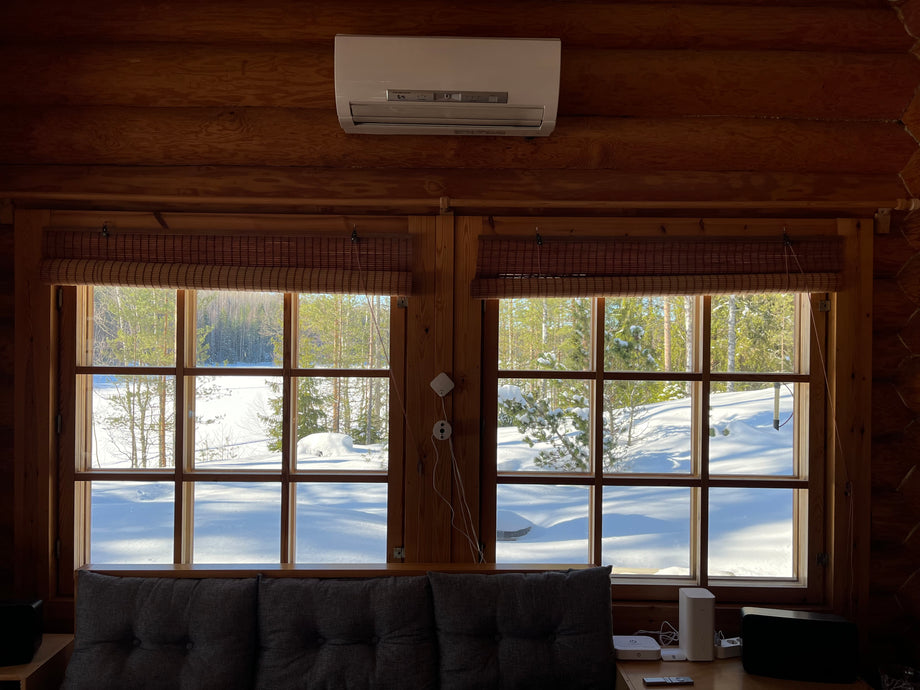 Controlling home heating and air conditioning based on the spot-price of exchange electricity is easy to implement with the Cozify system. All devices connected to our hubs can be controlled according to your preferences and the price of electricity with simple rules.
Case Study: Pankkiharju
Our cottage in Lappeenranta has an easy-to-use Cozify system based on Home/Away modes, controlled by the Cozify mobile app, which can be downloaded for free from the IoS or Android app store.
Cozify controls the air source heat pump and water heater according to the price of electricity. Also connected to our system are: security camera and burglar monitoring system, water leak detectors, smoke detectors, Sonos sound system, and control of some lights.
Control based on the spot-price of electricity
When we are at home, the air source heat pump overheats the cabin for a maximum of five cheapest hours and keeps it off for the rest of the day, unless the temperature in the cabin drops below 14 degrees
Similarly, our old hot water heater, connected to an outlet, charges itself during cheap hours and is switched off the rest of the time.

A more robust three-phase charger can be cabled in with the help of a local electrician, connected to the Cozify system and controlled based on the price of electricity.
Low energy mode
When we're away, at the press of a button, the Cozify ZEN smart hub switches our air source heat pump to low temperature control at 10 degrees and turns off the hot water heater.
It's easy to change the control rules and limits from the mobile app to suit your own needs.
Reflections
Now that I've tested the system for a month, I'm going to switch to spot-price electricity as soon as possible. At the moment we have a fixed-price contract, and we cannot directly benefit from exchange electricity price-based control.
Sometimes electricity price-based control causes a little discomfort when saving money and working correctly. My cabin cools down to an easily defined lower limit when it's much below zero outside, or the hot water heater may provide lukewarm water instead of hot. However, it is easy to momentarily switch off electricity price-based control from the mobile app.
For us, the most important features of the Cozify system are definitely remote monitoring and reporting. We can always look at either the mobile app or the browser interface to see how our cottage in the middle of nowhere is doing. A few times, when I have tuned energy saving too tightly, I have received a notification from my water leak monitor on the floor that it is too cold there. Then I've just remotely loosened the regulations a little.
The right settings have now been found.
Finally
If you are interested in device control and energy saving based on the spot-price of electricity, take a look at our website or contact either me or our technical support directly.
For a small additional price, we can mail you a pre-configured system that includes, for example, Cozify ION for your cabin and a few controllable sockets, temperature and humidity measurement, and air source heat pump control pre-configured for Plug & Play.
In this case, all you have to do is plug in Cozify ION and the necessary devices and the system will work!
Asko Määttä
Cozify, Head of Sales